Why PVC Tarps are best for storage and protection
If you're looking at tarps then no doubt you know it's many applications and how useful they can be, but why should you invest in a custom tarp over a store bought one? why are PVC tarps better than off the shelf tarps?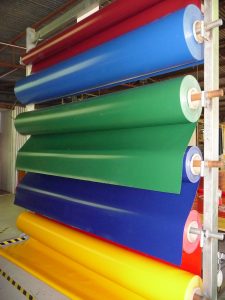 What is PVC 
At Westarp we use a high grade, cross-woven polyethylene terephthalate scrims with a polyvinyl chloride (PVC) film laminate. This material is coated with a polyethylene laminate that is treated against Ultraviolet rays (UV), to ensure you get the most use you can out of your tarp.
Our PVC material is coated with a UV coating that protects the material from the UV sunlight. As the sun degrades and forms fissures in the material and its base cloth. The UV coating works towards prolonging the lifespan of the tarp, by protecting it from premature breakdown and failure caused by UV rays. Meaning that even if your is exposed to the elements on a continual basis, you can rest assured knowing that your material has been designed to withstand harsh Australian climates.
Our PVC is designed to be highly resistant to abrasions and tearing, and the lining has been fire retardant (FR) treated. With heat-sealed seams and boasting of being a multi-laminate, you can expect years out of your tarp.
As you can see our material is highly durable and that's why recommend using our tarps for your storage and covering needs. We make tarps that will bear the brute force of our weather, usage or storage conditions.
Looking after your tarp 
Even though our material is high grade and designed to withstand Australian weather conditions, there are a few things you can do to ensure your tarp will last the distance.
Take your tarp down and lay it out flat when convenient
Remove any debris like dust, metal scrapings, residue etc. as you see them appear
Washing your tarp with mild dish soap and brushing it down
Remove excess water and allow it to air dry
Roll your tarp into a tube instead of folding as this allows the material to breathe and fold more naturally
If at some point you find your tarp has worn on a specific area, purchase one of our PVC repair kits. These kits are specifically designed to fix and maintain your tarp, so you can continue to get the most use out of your tarp.
Why is PVC better 
Due to the nature of the material as we talked about earlier, it's designed to withstand and be utilised for long periods of time. Because we take pride in using and making tarps, we go the extra mile to make sure your tarp is exactly what you want and need, right down to the colour and any extra features. It may be easier to head to your local store and pick a tarp off the shelf, but what guarantees are you getting? Is it made to suit your exact needs? Will it protect your equipment? Will it last in the years to come?
At Westarp we know and take pride in being able to guarantee you nothing but the best.