What are the Benefits of using Truck Tarps
Any cargo or load of merchandise being carted around by trucks require protection from the environment in order to preserve the quality of the load. This makes tarps essential, especially when carting loads such as grain or sand.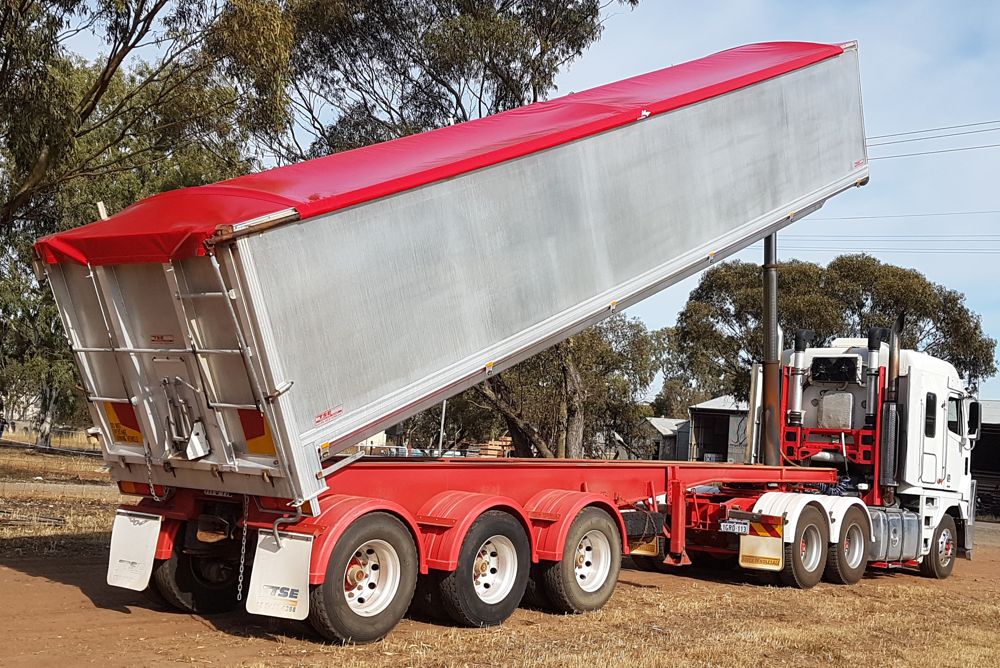 Drivers have the responsibility to ensure that any and all cargo they are carrying arrives in almost perfect condition. In the case of this, drivers need to keep their loads covered and the best way to ensure this, especially on a tipper or flatbed trailer, is to cover it with a water resistant tarpaulin. A vast majority of tarps also come with a UV resistance which aids in the tarps longevity as well as protecting from excessive heat sources. Tarpaulins are made from both sturdy and adaptable material, commonly PVC, in order to ensure optimal protection from surrounding environments. The beauty of these tarps are that they are water resistant, beneficial in protecting your cargo during rainstorms. Majority of trucks sport heavy duty tarps, driving without a worry under the dark clouds.
A downfall to not covering your load during transit would be the risk of it falling off or out of the trailer. This causes issues for other traffic on the road as well as creating potential hazards along the journey. By having a truck tarp in place, the drivers lower these risks exponentially; preventing potential accidents from occurring. The last thing a novice or even experienced driver wants is to have to try and dodge falling debris from the truck a few cars lengths ahead. The major downside for logistic companies is also the loss of profit as well as a decline in the happiness of their customers. Better safe then sorry; best to cover up your load with a tarp and ensure the safety of it and the safety of others on the roads around.
A benefit of having a tarp on your trailer is not only does it protect your load; it is also highly customisable. Major companies often have their trucks splashed in their company colours, utilising the large canvas space as an opportunity to showcase their logo also. The beauty of this is that while the trucks are traveling cross country, the company has its brand being showcased interstate.
When it comes to the loading and unloading of the truck, tarps prove simple in both covering and opening up a trailer. For tippers, tarps are often set up to either open side to side or front to back. This allows for an easy unload for when the trailers tip upwards to let their grain/sand come tumbling out. Side to side if beneficial in loading up as it open right up, allowing for grain or sand to guided into the trailer with ease.
Tarps have proven beneficial for trucks, no matter the cargo they are delivering. Be it through stormy weather or intense heat, tarps are perfect for ensuring the safety of your load.