How to determine what GSM is best for your tarping needs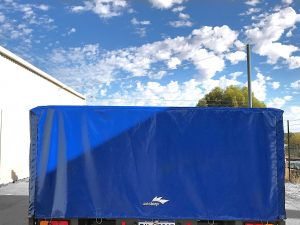 Tarps are an innovative solution that can provide long or short-term use, depending on what you're covering. Polyethylene PVC is fast taking over the once popular canvas material as it provides a higher level of flexible, robust, water resistant/proof coverage at a much lower cost compared to other options on the market.
The beauty of tarps made by Westarp, is that they are custom-made to suit your exact needs, you're not stuck with a standard tie down option. Another bonus feature is that we are passionate about using high quality material that can be used over and over without the concern of the material breaking down from use, providing that it is used and stored correctly.
Depending on what your covering will determine the GSM (Grams Per Square Meter)  we would recommend for you, such as
Roofing tarp
Roll tarp
Hay tarp
Box tarp to cover machinery
permanent to semi-permanent structures like a a marquee or tent
These applications determine the the durability needed as well as the ease of use for you, as an example you might have just a couple of bales of hay that are being stored in a semi enclosed space and you would like added protection. A light weighted tarp in lower GSM offers great durability to the elements and can be applied and moved around with greater ease to the person. Whereas something like a roof tarp that will be in use for a prolonged period of time, exposed to the elements and and is providing a higher level of protection and abrasion resistance, we would recommend a heavier GSM.
The most common used GSM range from 260, 410, 680 and 900, these materials have a range of features that include:
Self-extinguishing material
Superior resistance to flex cracking
Fire retardant
Flex resistance of 400,000 cycles
Ideal for continuous outdoor use
UV stabilised scim and coating
Inherent dirt repellant PP coating ensures the fabric retains it's appearance longer and reduces maintenance processing and costs
100% recyclable
Chlorine and phthalate free
Whether its fitted or a flat tarp it's important to ensure the measurements are accurate; one of the best features of Westarp's webpage is the easy step by step quote process that even allows for you to upload images to help create a full picture. If you find that your tarp is a little more complex or would like to talk to through your options, Westarp has a team with over 30 years experience that can advise and work with you to ensure you receive exactly what you need with as much as ease as possible.