Westarp Hay Tarps – Keep your Hay Protected from Weathering
As we know, hay is subject to at least 10-25% loss (and in some cases a lot higher) due to weathering. Don't be caught out, Westarp produce custom tarpaulin systems for hay to suit round bales, large square bales & small square bales for any size stack. Retain 100% profitability and nutrient value by keeping your hay covered.
One of our most common designs incorporate pockets on the edge of the tarp with metal pipes or webbing and ratchet tie-downs, this keeps the edges tight and straight and eliminates the possibility of wind getting under and damaging the tarp from excessive flapping.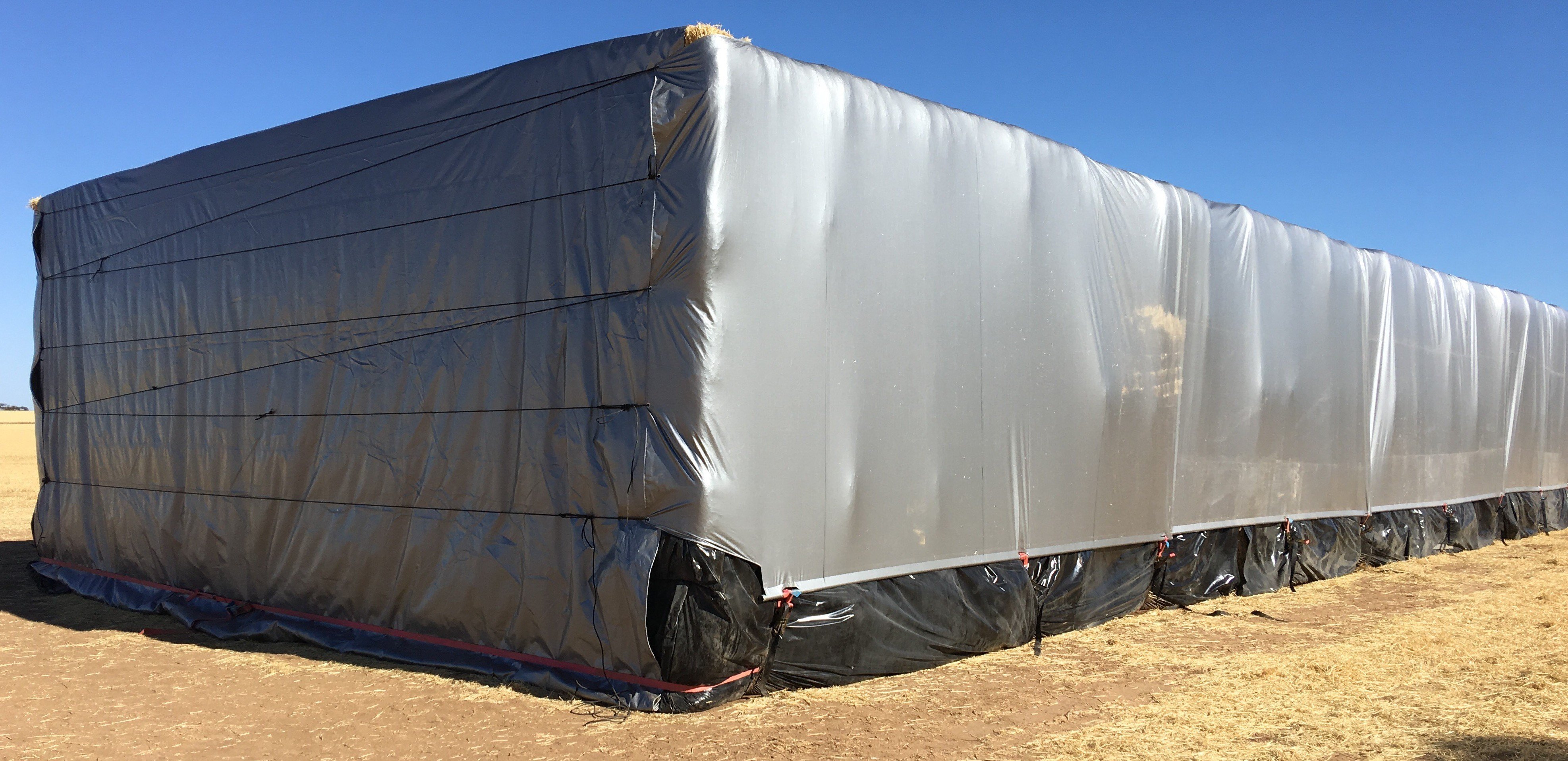 Features that are commonly looked for in Hay tarps
Quick and easy to use and pack away
Able to be set up at any site
Light weight and durable
Manufactured as individual sections so the stack size can vary
Water proof for hay protection
Able to withstand strong winds
Cater for long term storage e.g. 1-2 years
Fitted End Cap Tarps for each end of the Stack
Standard modular tarp sections used between both end caps
Pockets taking metal pipe which are ratchet strapped down to tension the tarp
Buyers and transporters don't like mouldy or rotten hay, and there are examples of uncovered stacks losing 50% of the bales due to this. Proving yet again that hay not stored correctly costs money due to high losses.
Unfortunately, rain can damage hay in several ways. Rain leaches soluble nutrients and keeps the moisture level high, thus increasing the likelihood of decay and mould. Hay rained on during paddock drying damages legume hay more than grass hay and the drier the hay when rain occurs, the greater the damage.

It's so important to understand how to properly store hay bales so that they can be used all year round. Plan your storage before you begin! Before you begin stacking and storing your hay bales, think about a system that will keep the oldest bales towards the front. When you need hay, you'll want to use the oldest hay first instead of letting it sit in the back for too long.
Keep the bales covered
Never let hay bales stay uncovered outside, exposed to sunlight and rain. Hay that is exposed to sun for too long will dry out and lose its nutrients, and hay that soaks up rain water is more likely to grow mould. Keep hay covered under a tarp and stored in an elevated area and sealed surface to protect it from the outdoor weather. In keeping hay bales properly stored, you not only ensure that your own livestock receives high quality hay all year round, but you also make your hay more marketable to be sold to other livestock owners. When livestock owners are looking to buy hay, they look for bales that have been stored correctly and will thus be the most nutritious for the livestock.
Whether you want your hay tarpaulin covers for single row stacks, based on truck load size of 2.4m wide (1 bale) by 12m long (10 bales), or designed for extra-large Haystacks, Westarp is your leading supplier of Custom Tarp Covers in Australia for Australian Conditions. Call us on (08) 9690 1111 or book a custom made tarps online today.